The 1/8th combo set is combined with 4068 2050KV sensorless brushless motor, 120A brushless ESC and LED program card. The ESC is designed for 1/8 scale RC car with the use of 2-4s LiPo battery and 4-8s NiMH battery. When you connect the ESC with the program card, you could tune and tweak parameters that add up to an incredible RC driving experience.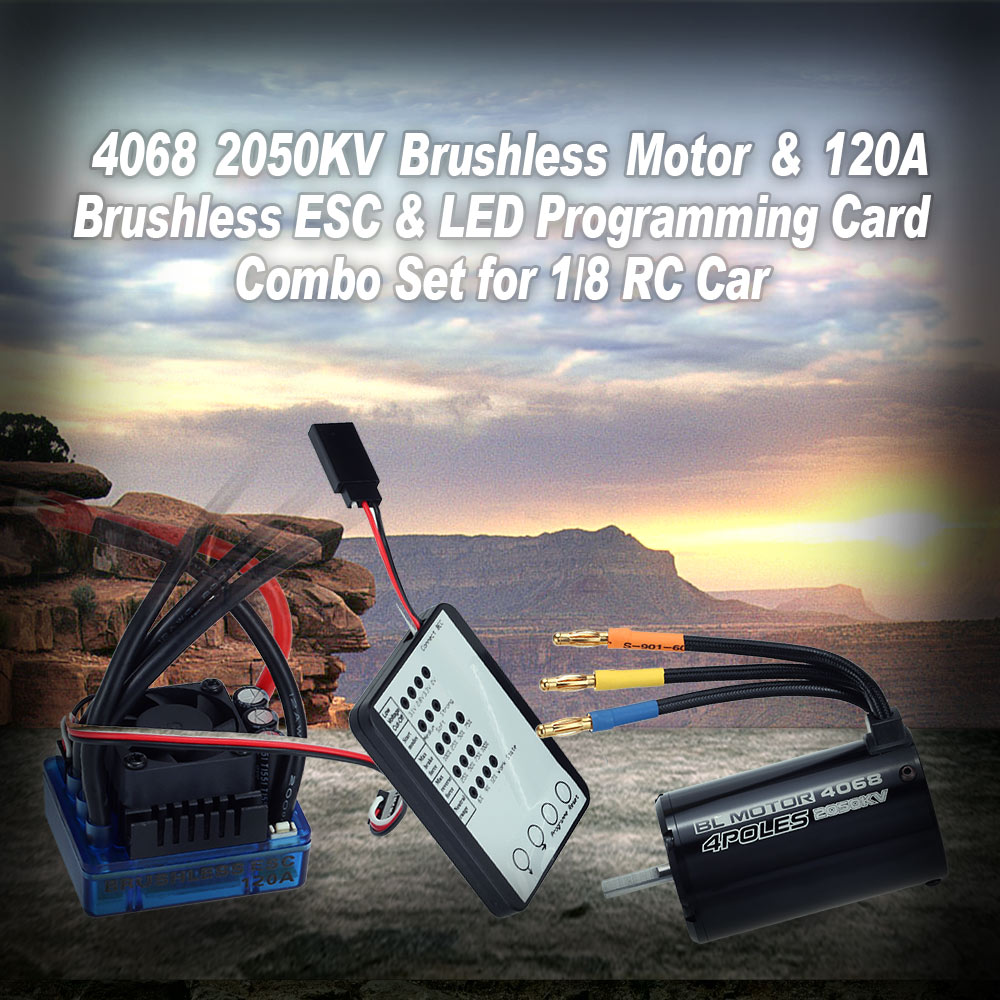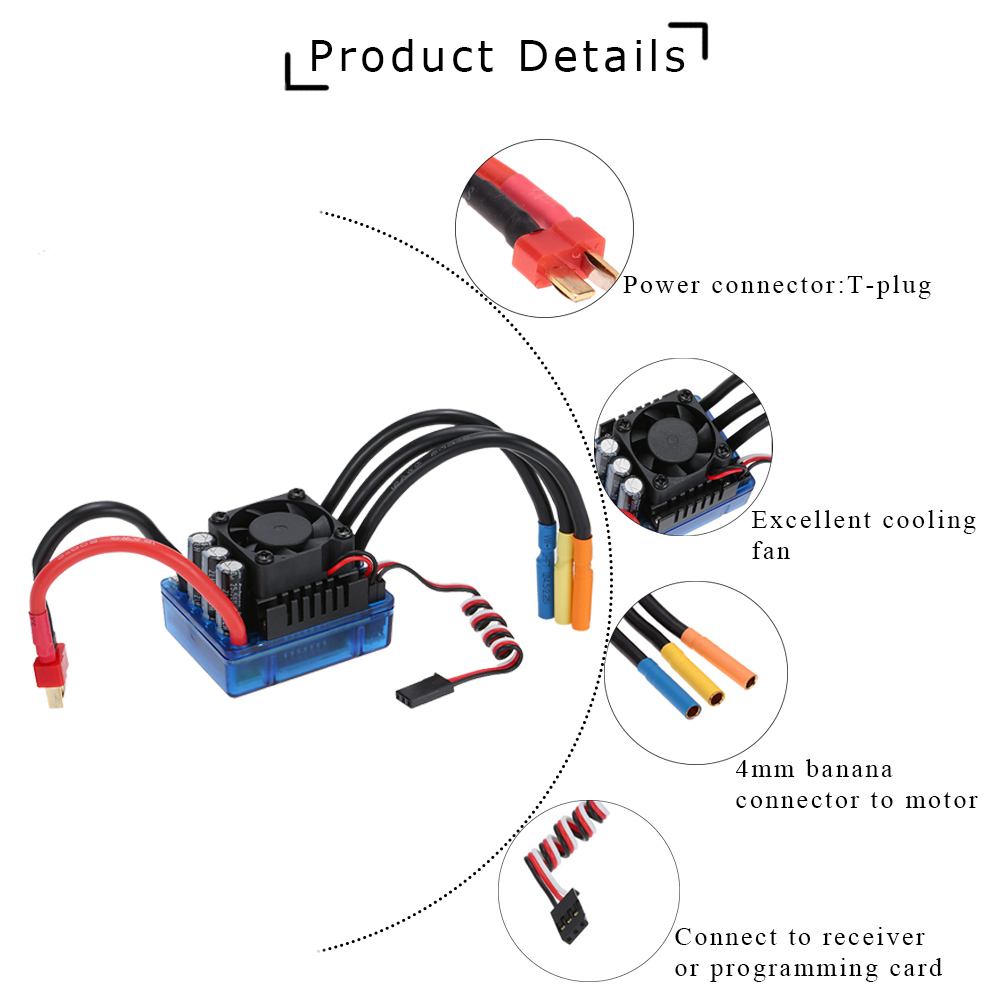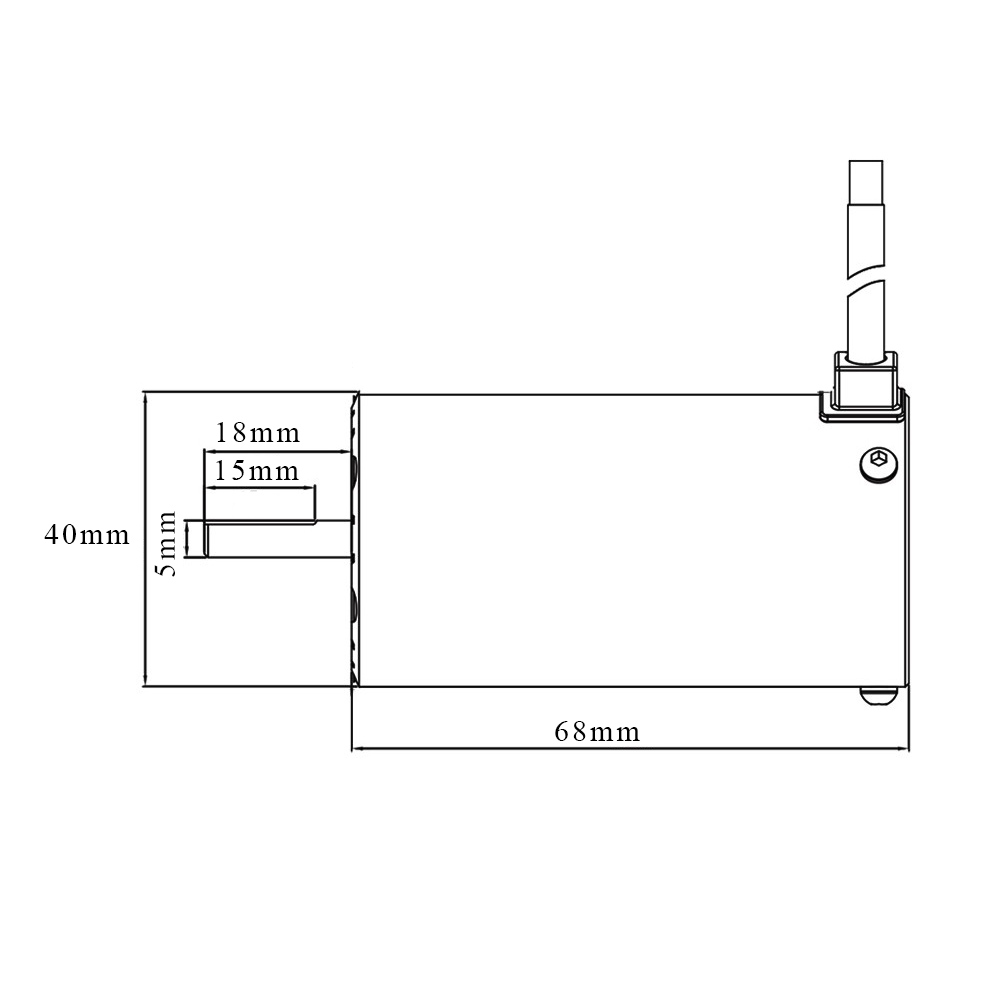 Features:
High RPM oversized bearings.
High purity copper windings maximizes efficiency.
Precision engineered for maximum energy conversion.
Short stator, less wire, lower resistance, more power.
Precision balanced rotor, smoothness for best reliability and maximum RPM.
Using advanced software interface to set up or update the software.
Enhanced throttle response, excellent acceleration, strong brakes and throttle linearity.
Built-in switch mode BEC has powerful output to supply all the electronic equipments.
Multiple protection features: Low voltage cut-off protection, over-heat protection and throttle signal loss protection.
Motor Specifications:
KV(RPM/Volt): 2050KV
Max RPM: 50000
Max current: 105A
Max watts: 2200W
Max voltage: <21V
Resistance: 0.0095
Diameter: 40mm
Length: 68mm
Shaft length: 18mm
Shaft diameter: 5mm
Sensored: No
Plug type: 4mm banana plug
Weight: 311g
ESC Specifications:
Continous current: 120A
Burst current: 600A (10S)
Battery: 2-4S Lipo / 4-8S NiMh
Power supply plug: T-plug
Motor plug: 4mm banana connector
Cooling system: Yes
Size: 50 * 35 * 40mm
Weight: 114g
LED Programming Card Specifications:
Low-voltage cut-off: 3.1V, 2.8V, 3.3V, 0V
Smart modes: Medium, soft, strong
Max brake force: 100%, 25%, 50%, 75%
Max reverse force: 25%, 50%, 75%, 100%
Neutral range: 6%, 9%, 12%, work state
Size: 60 * 46 * 6mm
Weight: 21g
Package Information:
Package size: 11 * 8.5 * 6cm / 4.3 * 3.3 * 2.4in
Package weight: 481g / 1.06lb
White box package
Package List:
1 * 4068 2050KV Brushless Motor
1 * 120A Brushless ESC
1 * LED Programming Card
Questions & Answers