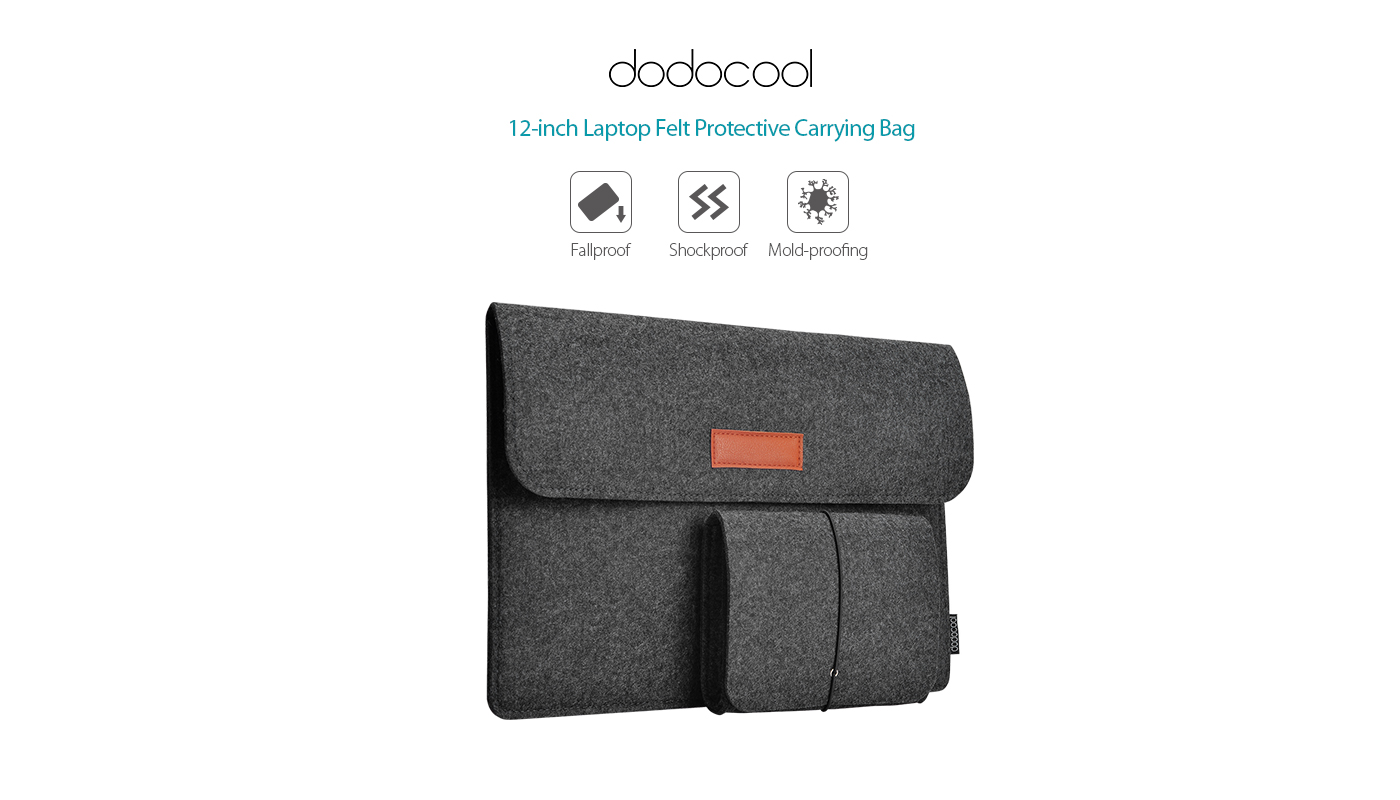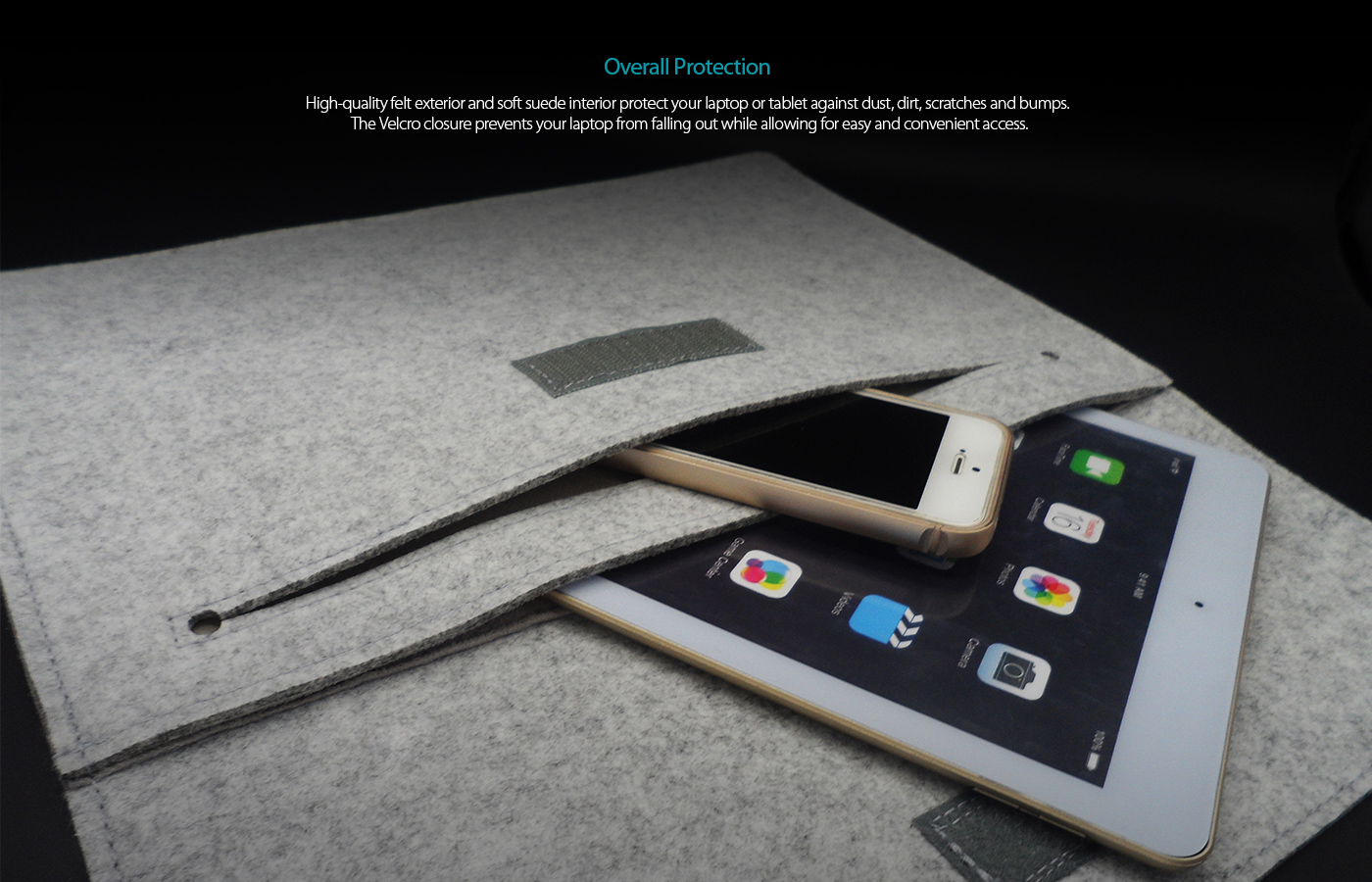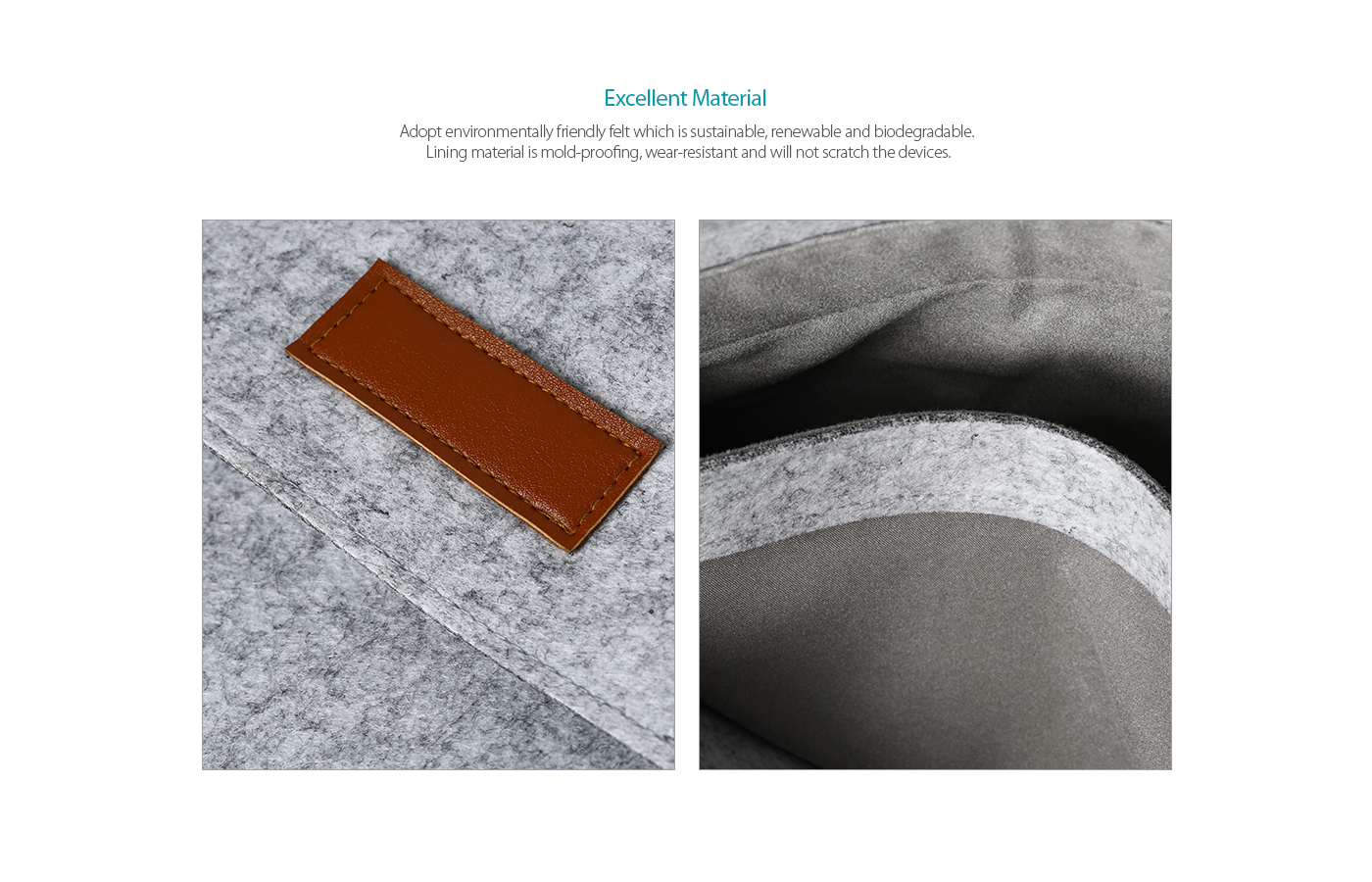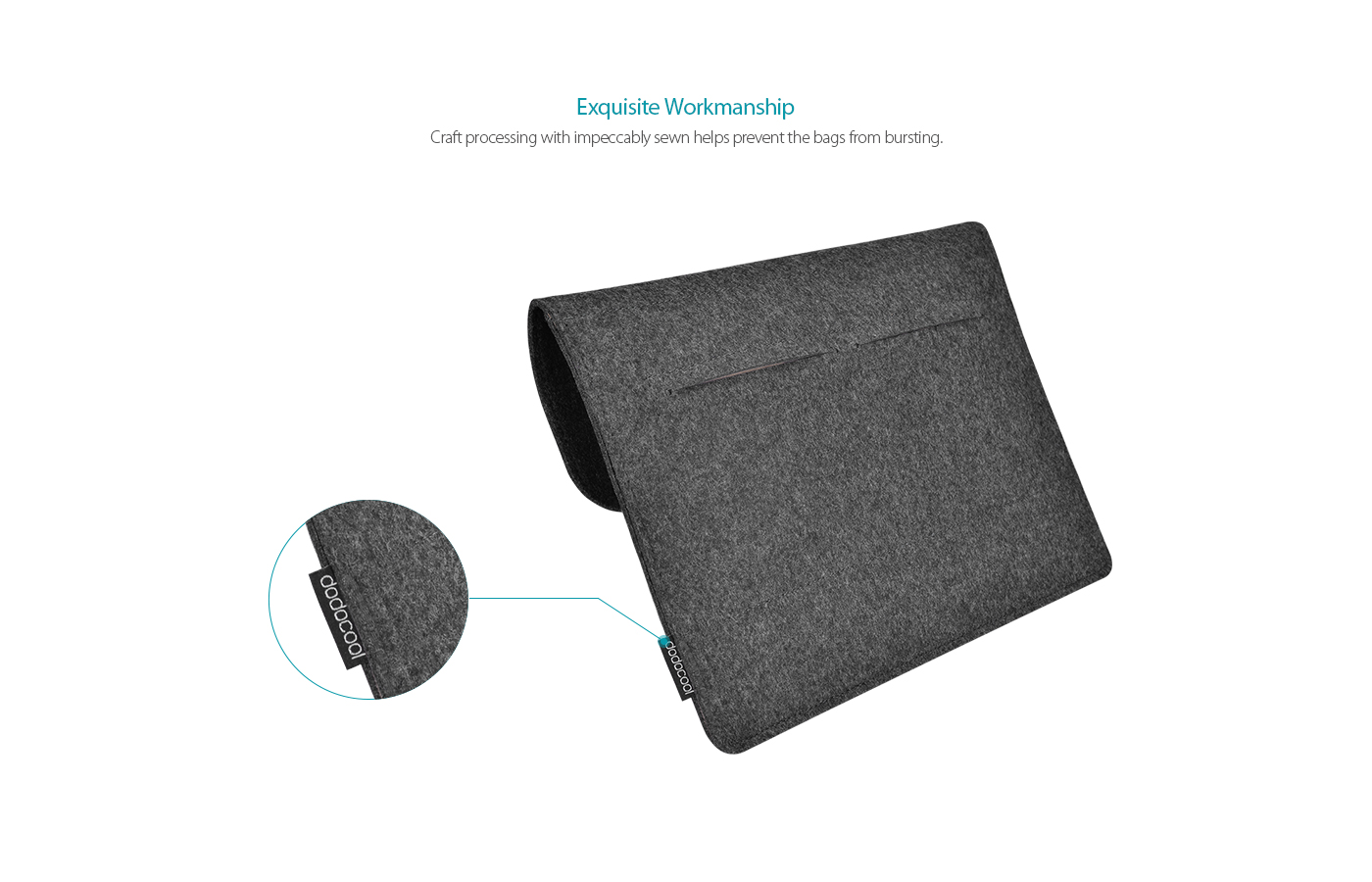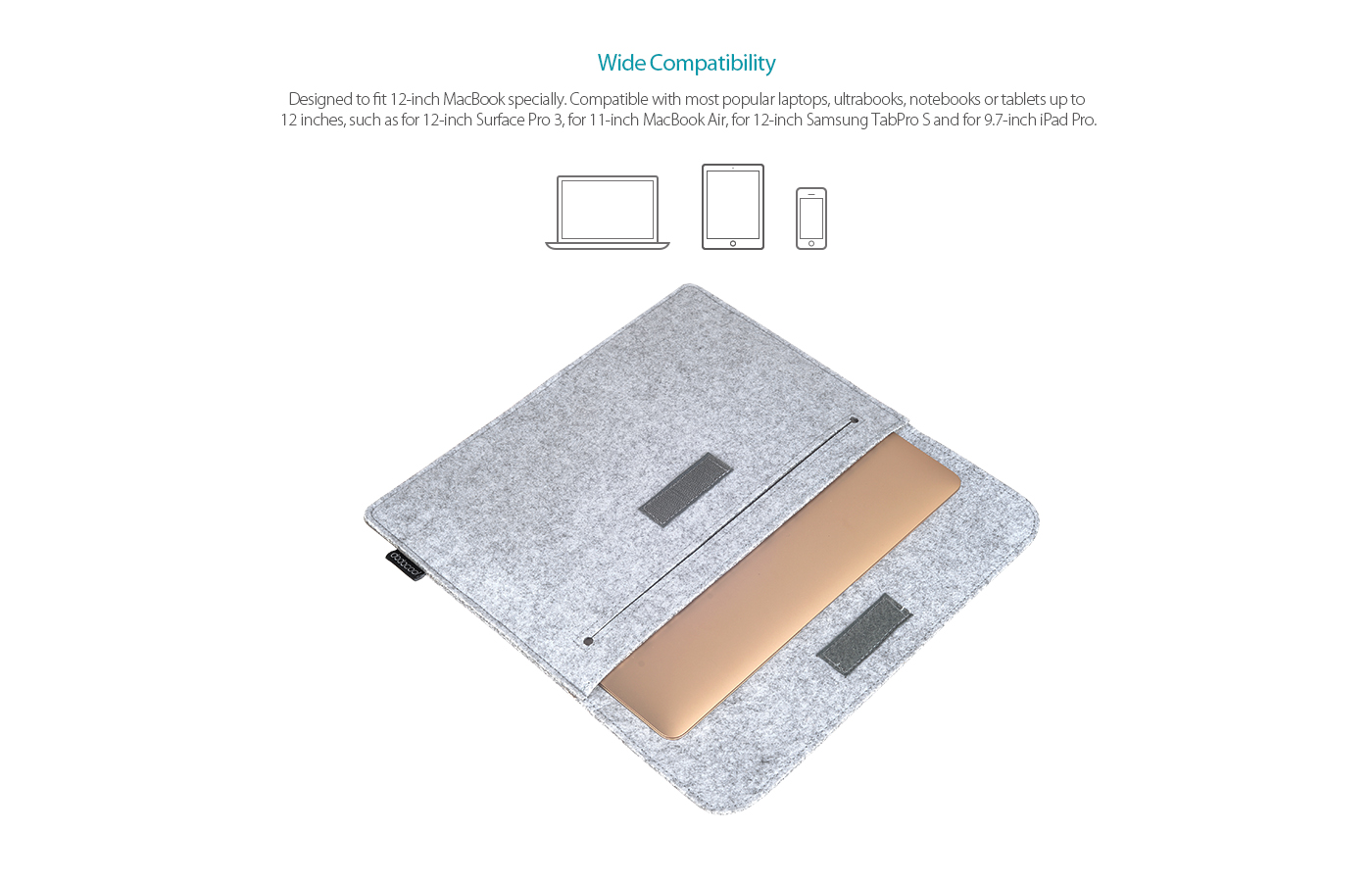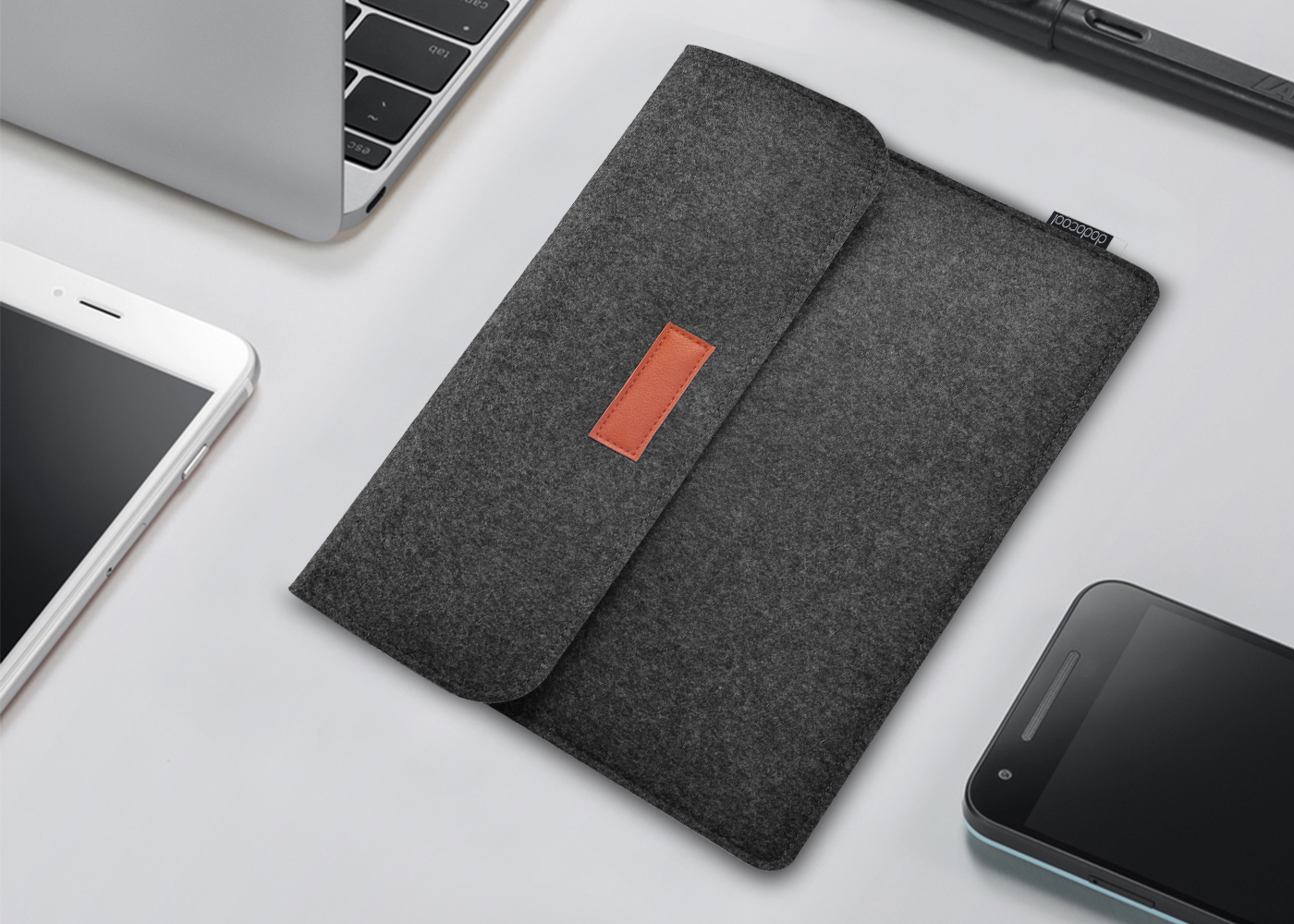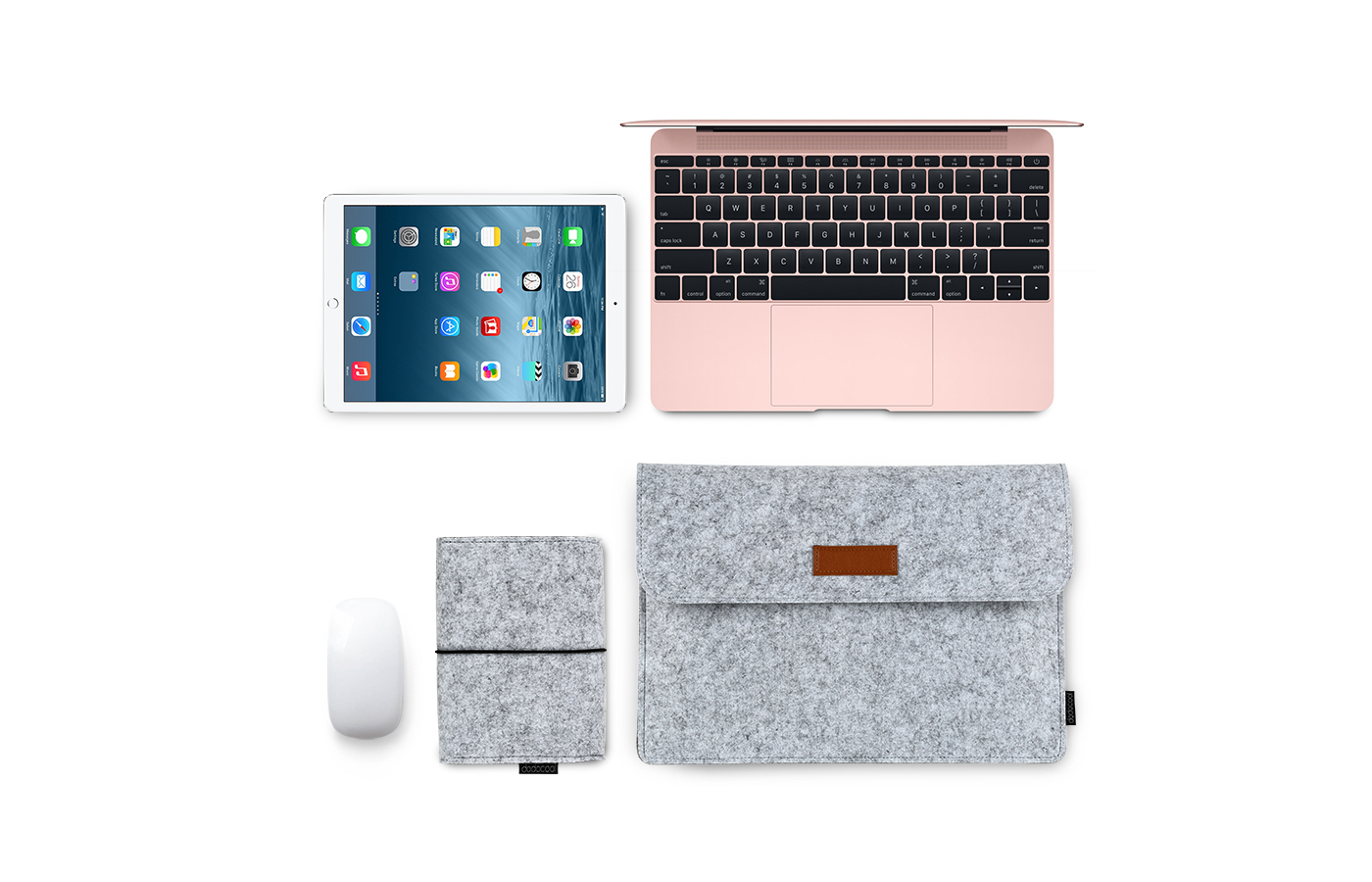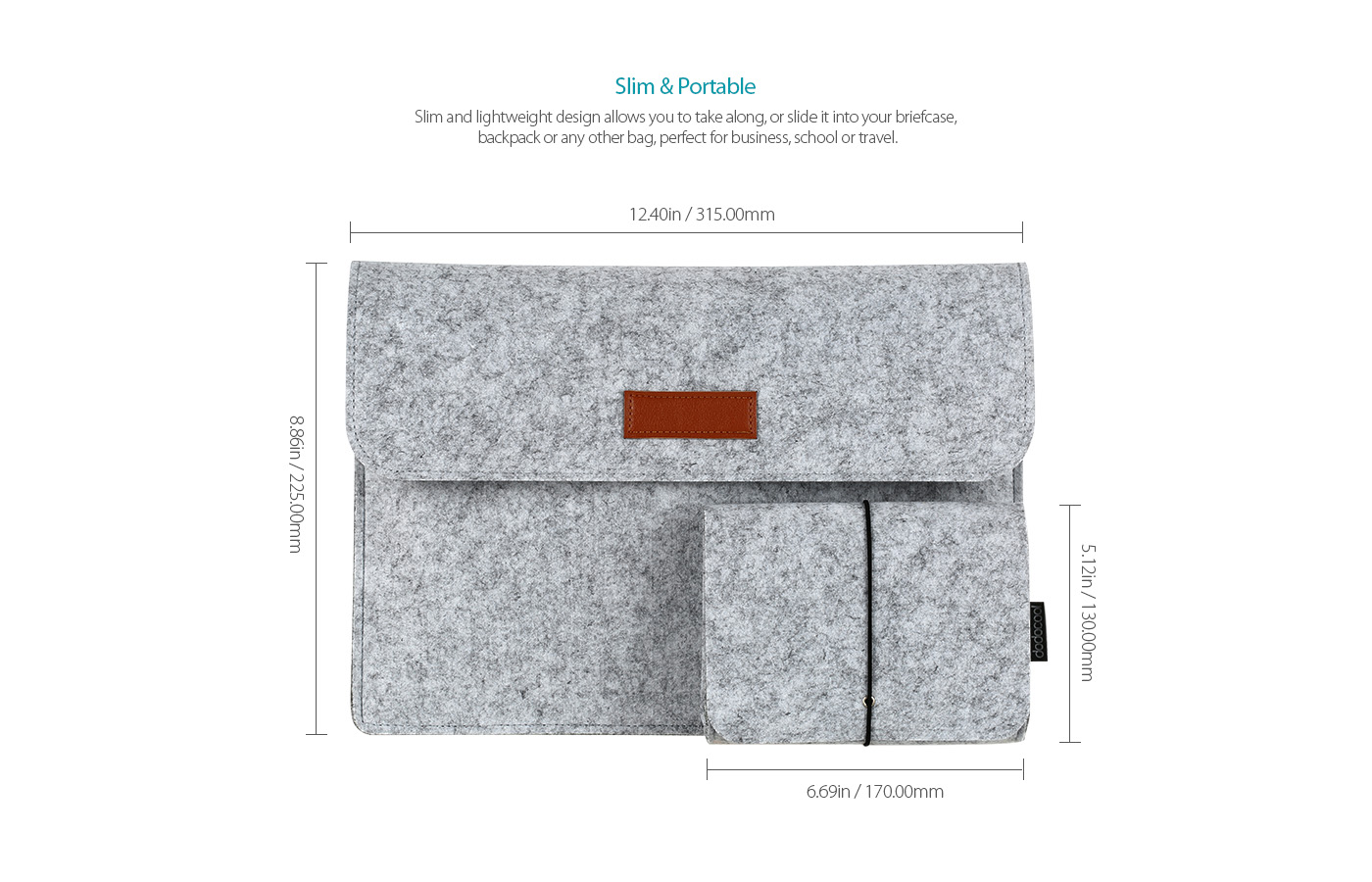 Overview
dodocool 12-Inch Laptop Sleeve with premium felt and soft suede lining protects your laptop or ultrabook against bumps and scratches. With 3 extra pockets and an additional felt pouch for other slim and small items. Slim and lightweight design enables you to carry it alone or put it into your briefcase, backpack, or other bag easily.
Features
Wide Compatibility
Designed to fit Apple New Macbook 12″ specially. Compatible with most popular laptops, ultrabooks, notebooks or tablets up to 12 inches, such as for Surface Pro 4 / Pro 3, for 11″ MacBook Air, for 12″ Samsung TabPro S and for 9.7″ Apple iPad Pro.
Overall Protection
High-quality felt exterior and soft suede interior protect your laptop or tablet against dust, dirt, scratches and bumps. The Velcro closure prevents your laptop from falling out while allowing for easy and convenient access.
Versatile Storage
Provide a main compartment for a laptop up to 12″, a slightly smaller front compartment and two back pockets for a tablet less than 9.7 inches, books, e-book readers, magazines, pens, mobile phones, cables, wallets, earbuds, ID cards or other slim items. A smaller felt pouch is also included for taking mice, chargers, power banks and more.
Excellent Material
Sustainable and renewable felt offers superior strength and a soft hand feel.
Stylish & Exquisite
A fold-over flap with a synthetic-leather Velcro fastener ensures a secure closure while making it a stylish detail.
Slim & Portable
Slim and lightweight design allows you to take along, or slide it into your briefcase, backpack or any other bag, perfect for business, school or travel.
Specifications
Brand: dodocool
Material: Felt, suede, PU leather
Color: Gray
Warranty: 12-month warranty
Laptop sleeve:
Outer dimensions: Approx. 13.19 * 9.25 * 0.39 in / 33.50 * 23.50 * 1.00 cm (L * W * H)
Inner dimensions: Approx. 12.80 * 8.66 * 0.39 in / 32.50 * 22.00 * 1.00 cm (L * W * H)
Pouch:
Outer dimensions: Approx. 6.69 * 5.12 * 0.79 in /17.00 * 13.00 * 2.00 cm (L * W * H)
Inner dimensions: Approx. 6.30 * 4.53 * 1.26 in /16.00 * 11.50 * 3.20 cm (L * W * H)
Sleeve weight: Approx. 6.03oz / 171g
Pouch weight: Approx. 1.95oz / 55g
Package dimensions: Approx. 13.78 * 9.25 * 1.18 inch / 35.00 * 23.50 * 3.00 cm (L * W * H)
Package weight: Approx. 8.71oz / 247g
Package includes
1 * dodocool 12-Inch Laptop Felt Sleeve Bag
1 * Felt Pouch for Mouse
Questions & Answers
Q
Does this also have room for the power cable inside the front pocket? I couldn't tell by the pictures.
A
we have leave some spaces for the power cable.

By Beeebo-us SELLER on March 10, 2018